| | |
| --- | --- |
| | Between Gironde estuary and the Atlantic Ocean, come discover the Médoc region or "Little Camargue of Bordeaux" at horse pace, its history, its curiosities, its colored fauna & flora. |
Come share an adventure and play truant in the Médoc. This break is all about roaming around and taking it easy. Unlike an itinerary, roaming has no precise goal, it is a holiday driven by curiosity. Each site is worth seeing, discovering, understanding... and invites you to continue your stroll !

You will enjoy the atmosphere of Médoc region's villages and discover the local lifestyle, history, culture and identity.






WEEK-END RIDE BETWEEN BEACHES AND VINEYARDS

The ideal short trail for hedonistic riders wishing to mix their passion for horse riding and good wine. A trail between endless Aquitaine white sand beaches and vineyards where some renowned french Grands Crus are growing.

Day 1

The riders are welcomed at the stud farm at 9am. They visit the place, and have a first contact with the horses and the staff drinking a coffee.
This morning, we ride to discover the "mattes' Medoc" swamp. Here, the level is lower than the level of the ocean. We evolve in these huge expanses of wild plains, a not-to-be missed wildlife and flora nest: grey herons, egrets and storks offer us a permanent show. There are 3600 hectares of alluvium flat land, where are growing the reeds and the hawthorns. These plains are converted into pastures, checkered with "passes" and "jales" (French appellation), and bordered with tamarisk hedges whose branches stop the wind and salt. Then, we ride to the palus alongside the estuary where the shore is bordered by a succession of imposing seawalls, intended to protect the lands.
We enjoy wonderful landscapes preserved from seaside constructions. We just see sometimes the typical, famous and traditional fishing houses in this region.
For lunch, we have a rural picnic in the Richard beacon and taste local products and Medoc wine. Then, we visit the beacon and the museum of Médoc history (~1 hour).
In the afternoon, we ride through the Medoc vineyards, and through the small villages of Jau-Dignac and Loirac and their tidy vines bordering the river. The Medoc region is a famous worldwide diamond thanks to these landscapes and Grands Crus. Then, we visit the Hourcade wine Castle, the vineyard, the winery and taste three vintage wines.
In late afternoon, riders and luggage are transferred to the hotel** to have dinner and spend the night.


Day 2
We ride to the "Lande Girondine" forest, a wide man-made pine trees forest 150 years ago to stop the expansion of the sand. We ride through the winding paths where we can hear the waves' noise in the distance. In front of us, we enjoy 40 Kms of beaches to canter up to the Verdon "the end of the land".
For lunch, we have local products and Medoc wine. Then, we ride on the beach where wild nature is the queen. We enjoy cantering between the noisy waves and the sandy dunes fixed by the beach-grass and thistles. Then, we reach the St James of Compostela way, and ride back to the hotel in Soulac to enjoy an aperitif.
Individual departure of the riders from 6pm.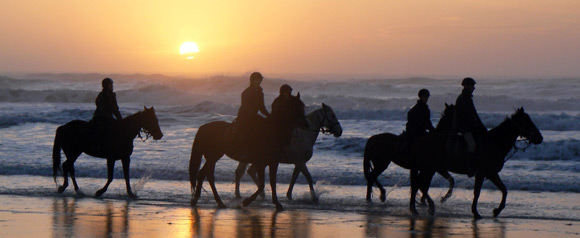 Between Beaches & Vineyard (2 days / 1 night) - 2021

April 17 to 18

360 €

May 08 to 09

360 €

May 29 to 30

360 €

June 05 to 06

360 €

September 11 to 12

360 €

September 25 to 26

360 €

October 09 to 10

360 €
Options - 2021

Non-rider


130 €

Single room supplement (to pay on the spot)
This supplement will apply to all single rider. If you are willing to share your room, and we find someone to do so, this supplement will not be asked on the spot.

36 € / night

Extra night before or after the trail in an hotel (to pay on the spot)

60 € to 75 €
Included:
- The riding tour as described - The riding above on a full board basis
- Water, aperitif and wine for lunch, as well as wine for dinner
- Visits of sites (depending on the opening days and times, as well as the availability of the persons welcoming us)
- Wine tasting when visiting the cellars
- The financial guarantee of funds deposited in
Ride in France
,
(see "why ride with us ?")
- protection of the French Law for travel consumers who book through French travel agencies
(see "why ride with us ?")
Not included:
- Transport to arrive at the start point of the riding tour
- The transfers
- The other drinks
- Registration fees of 15 € per person
- Any other services
- Tips
- Personal expenses
- Optional insurance: more information
Our horses and required riding ability
Horses
During these riding tours, you will ride saddle horses: Anglo-Arabian, Arabian, and French saddle. They are very well trained and used in the pony club by every riding ability children and adults, and also for trail. They are also used for training the equestrian tourism guides. They are calm and safe.

Tack
We use comfortable Forestier, Devoucoux and Norton trail saddle. We have also two Western saddles available upon request.
Saddlebags and holsters are not provided on this riding tour, you can bring yours if you want (saddle pad with pockets is provided).
Recommended riding ability
Our riding tours are for experienced riders feeling at ease at the three gaits (walk, trot and gallop) even fast gaits, and with a minimum outdoor horseback practice.
The flat ground, the beach and the sandy path are perfect for fast gaits.
Every day, we ride between 30 and 35km, about 4 to 5 hours riding.
Good to know
- Maximum weight: 100 kg
- Minimum age: 16 years old with or without accompanist.
- Helmet is not compulsory but highly recommended. The equestrian centre can lend you one.


The local team
Alexandra (or a member of her team) is your equestrian tourism guide.
Her long experience trailing will ensure you the best conditions.
A logistic vehicle carries your luggage, meals and material, and joins us for lunch and dinner.

Accommodation





Your accommodation is a 2* hotel or a guesthouse. There are double bedrooms with a private bathroom. In many accommodations a swimming pool is available in summer time. Your bedroom leads you directly in the garden and the atmosphere is calm and pleasant.
You can have a single bedroom with an extra charge upon request and availability.

If you arrive by train, it is compulsory to be here the day before the start of the riding tour.


Meals
For lunch, you will have rural, strong, varied, hot or cold picnics depending on the season. They are prepared by the logistic staff.
You will have dinner in the hotels or guesthouses.
For lunch, you have wine and aperitif included. For dinner, you have only wine included.
If you are intolerant or allergic to certain food, please tell us when subscribing for us to be able to prepare adapted meals for you.
Languages spoken by the guide: English / French speaking guide.
Group size: from 2 to 12 riders.
Arrival airport / train station: Meeting point directly at the start point of the riding tour at 9am on day 1.
Departure in late afternoon, at about 6pm, on day 2.
If you want to arrive by train, someone will pick you up at Bordeaux St Jean train station. In this case, plan to arrive from 5pm the day before, and to leave in the morning the day after the end of the riding tour (plan an extra night).
For this transfer service, you will have to pay an extra charge of 50€ round trip. Transfers from Soulac sur Mer are for free.

Our riding consultant's report
It is the perfect place to spend some days riding on the beach and on the seaside and/or to taste many Grands Crus. In spite of the wide beaches, the Medoc region stays wild and you will find a familial and friendly atmosphere.
---
Riding guest reviews
"Great weekend: Varied landscapes (swamps on the first day and and forests and beaches on the second); nice period with the colors of spring (a lot of flowers, green leaves...) even if we would have appreciated a bit more sun; very professional guide and really kind; horses very well trained and endearing." - Joëlle P. (2018)
100% beach :
"Diverse landscapes, a breath of fresh air. Comfortable saddle. Really great horse. 2 really nice hotels." Muriel. G - 2014
Beaches and Vineyards :
"Warm, friendly and professional welcome. Nice trail, beautiful landscapes. A lot of very different horses for all kinds of riders." Raphaël. B - 2014
"The guide is a real professional and she takes good care of her horses. A remarkable and nice person." Anny. R - 2012