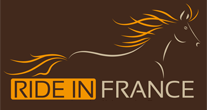 HORSE RIDING TOURS IN GREAT EAST OF FRANCE
Alsace, Horse riding tours in the Vosges Mountains

Ride in Alsace and discover its culinary delights and beautiful sceneries.
These horse riding trails are suitable for everyone: beginners and advanced (level groups), non-riders companions.

Come escape on a week-end or a week with family and friends on our special hikes open to beginners and experienced riders.

Teenagers from 7 to 17 years old are welcome on our introductory and advanced courses for horseback trail in Alsace!
Weekend rides :

---

An endurance ride in Morvan, into Burgundy
Well known for its vineyards that produce wines of world-wide reputation, the region of Burgundy offers many touristic charms.

The Morvan is a regional park in the center of Burgundy that will astonish you by the diversity of landscapes and the uncountable miles of unpaved country roads perfectly suited for outdoor riding.

Here, gastronomy, architecture and activities remain genuine though without being locked in past times.