Corsican Colours - 2017
April 10 to 14
April 17 to 21
| | | |
| --- | --- | --- |
| April 24 to 28 | | |
| May 01 to 05 | | |
| | | |
| --- | --- | --- |
| July 31 to August 04 | | |
| | | |
| --- | --- | --- |
| August 31 to 04 September | | |
Surcharges / Discounts / Options
Surcharge - Single room (depending on availabilities)

25 €/night

50 €

Option - Additional night
Option - Scheduled transfers, round trip (saturday)

50 €

Option - Special diet

30 €
Included:
- the trail ride as described in full board basis, including wine during meals,
- Total and unlimited financial guarantee (APS) of all payments made to us (see "why ride with us ?"),
- Protection of the French Law for travel consumers who book through French travel agencies (see "why ride with us ?").
Not included:
- transport to Bastia (contact us if you require a flight or a boat trip, and any extra stay in Corsica),
- the transfers from and to Bastia airport or port at required time schedules,
- any other service or optional visit entries, personal expenses,
- tips,
- optional insurances.
This beautiful horseback stationary ride will allow you to discover the various faces of the Island of Beauty changing along with the seasons! Colourful landscapes, mix of scents from chestnut to olive trees, amazing vegetation...

CORSICAN COLOURS
Day 1 - Monday
Meeting point is given at 9 am at the stables. We prepare our horses for our first ride. The ride leads us on the heights overhanging the banks of the river Tavignano, where we have a picnic lunch (carried in our saddlebags). After bathing in the river, it is time to return to Corte. Dinner and night.

Day 2 - Tuesday
Our trip leads us on a ride through Boziu today. In this pastoral region, we come across free herds... We discover typical images and atmosphere. We return to the riding center for dinner and night.

Day 3 - Wednesday
Today, the steps of our horses lead us in the scrubland towards the village of Alando. We enjoy a nice meal made of local products. In the afternoon, we reach the high village of Pianellu, where we spend the night.

Day 4 - Thursday
This morning, we start by riding with a wonderful overview on the valley and we admire the oriental plain and the italian islands. After lunch, we ride down towards the sea. We go through vineyards and fruit trees to reach Capricorsine camping. Overnight in mobile home.

Day 5 - Friday
For our last day, we ride to the mediterranean sea and Terranzana Beach, where we have lunch. In the afternoon we can relax, and swim with the horses if the weather is fine. Transfer to Corte, and individual departure.
Important : The routes can be modified without advance notice for safety reasons, of meteorology or accessibility. However, we shall make all the necessary efforts to preserve the interest of the route if modifications must be brought.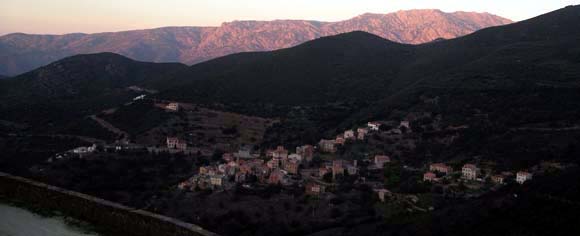 Horses and riding level
Horses

Our riding base is also a riding school, which guarantees you well-trained horses. Most of the horses are robust and strong Corsican horses. Some Merens horses also are available.

Horses are often compared to goats because of their secure feet in very uneven ground, but you'll still have to walk down on some hard tracks.

Tack

We use Corsican saddles, and Mac Lellan saddles. Saddlebags are provided.





Recommended riding level
To join this trail, you have to be comfortable at all paces in open spaces, even if most of the rides take place in the mountains and the principal pace is walking. We will ride about 30km a day, 5 to 6 hours in the saddle.
A good stamina is necessary. If you're more than 90kg weight, please consult us before booking.

Useful information
Children are welcome from 10 years old if accompanied by an adult, or 14 years old if alone.
This ride is perfect as a first experience of trail ride.
Maximum weight : 100 kg
The local team
Guiding
This trail is guided by an experienced and qualified guide. He lives all year long in Corsica and knows this region better than everyone else. He'll make you discover his own Island of Beauty .
Logistic
Our support vehicle will join you every evening with your luggage and sometimes during lunch time.
Maximum luggage weight : 20kg
Accomodation
This trail takes place in a particularly wild environment, but with comfortable accommodations in guesthouses or shelters (dormitory). The other nights are in cottages or bungalows.
Take your sleeping bag with you anyway.

Meals
For lunch, picnic will be taken from saddlebags. Dinners will be hot meals. You'll have the opportunity to taste local specialties (cooked pork meat, cheese and local alcohols).
Language: French and English
Group size: From 2 to 8 riders
Closest airport / train station: Possibility to ask for transfers from Bastia airport or Corte station (50€ return trip).