Day 1 - Saturday
Reception at the airport and transfer to the equestrian centre (about 1h driving from airport). Welcome aperitif, presentation of the hike and dinner.

Day 2 - Sunday
Meet at the stables around 9:00 after breakfast to make contact with his horse and equipment. This first step across Corsica's scrubland is followed during the afternoon by riding in mountain plateau around Corsican villages. At the end of the day, toward 6pm everyone can have a rest in his mobile home before dinner. Dinner and night in a mobile home at the equestrian center.

Day 3 - Monday
After the breakfast, around 8:30am, we drive the horses in a wagon (60 min) up to our tour departure point. Today, our itinerary conducts us across Castifao lowlands. We ride in « Balanina ridges ». Then, we reach Novella, an isolated little village with its huge fronts and its beautiful porches, remembering the ruins of its XI Century castle, its mill, its noble house...

Day 4 - Tuesday
Today, we will have a long day to reach the Agriates desert gates. This 16 000 hectares region is only a desert by its name. Formerly, it was considered as a wheat reserve. Today, it still maintains low and little dry stones-built houses, which were used for accommodation, to store wheat and agriculture equipment, or even, to shelter cattle. We take the direction of the littoral and stop to have our picnic at the sheepfold Guignu. Then, we ride toward Saleccia beach where we have dinner and night in a guesthouse.

Day 5 - Wednesday
This morning we have farniente and a guided tour of Saint-Florent and its beach. This afternoon, we discover a grapevines and beaches region: The Nebbiu region. We cross these landscapes which are very different from the rest of Corsica and we relish the view on the grapevines, the green pastures and the terrace cultivation. Then, we come back toward the little village of Vallecale to have dinner and night in a guesthouse.

Day 6 - Thursday
This morning we have a break to visit Saint Florent. The afternoon route leads us to a region of vineyards and beaches : the region of Nebbiu. We cross these very different landscapes as we are used in Corsica and we are delighted at the sight of its vineyards, its green pastures and its terrace cultivations. Then, we go back up towards the small village of Vallecale. Dinner and night in a cottage.

Day 7 - Friday
Today is our last riding day. This morning we start climbing toward Bocca di Tenda, peaking at 1 300m. On this mountain pass we will enjoy a panoramic view on Corsica mountains. Hopefully, we will sight the herds of free-roaming horses. Then, we ride down toward the village of Pietralba and the river of Asco to take the vehicles and drive to the equestrian center. End of the day between 18h and 20h depending on weather.
Day 8 - Saturday
After a good breakfast, departure for the airport around 9:30.

If we don't have the minimum participant number, the tour is maintained on the 6 days Corsica Colors itinerary.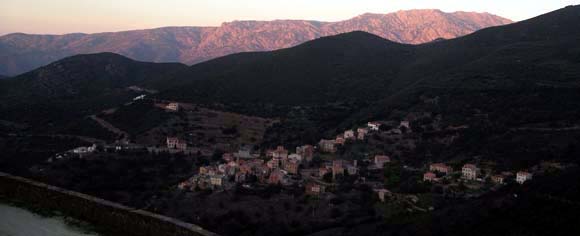 Important: This itinerary is provided on a indicative basis and is subject to modifications without prior notice for safety, meteorological or accessibility reasons. However, we will make everything possible to maintain the initial interest of the itinerary if changes should be made.