If this region was glorified by the writers, the Corsican made the most beautiful lines...
Let's discover the wildest and mildest side of Corsica!

After the beaches of fine and golden sand in the Agriates desert, the "Custom officers route" will lead you up to the Saint Florent citadel gateway...

Ride a horse, remain fully alert, and enjoy wild and incredible Corsica in all its glory.
Day 1 - Sunday
Meeting point in the stables at 9am for a first contact with the horse and its equipment. This first step across Corsica's scrubland is followed during the afternoon by riding in mountain plateau around Corsican villages. At the end of the day, toward 6pm every one can have a rest in his mobile home before dinner. Dinner and night in a mobile home at the equestrian center.

Day 2 - Monday
After the breakfast, toward 8pm30, we drive the horses in a wagon (60 min) up to our tour departure point. Today, our itinerary conducts us across Castifao lowlands. We ride in « Balanina ridges ». Then, we reach Novella, an isolated little village with its huge fronts and its beautiful porches, remembering the ruins of its XI Century castle, its mill, its noble house...

Day 3 - Tuesday
Today, we will have a long day to reach the Agriates desert gates. This 16 000 hectares region is only a desert by its name. Formerly, it was considered as a wheat reserve. Today, it still maintains low and little dry stones-built houses, which were used for accommodation, to store wheal and agriculture equipment, or even, to shelter cattle. We take the direction of the littoral and stop to have our picnic at the paghjaghjude Guignu. Then, we ride toward Saleccia beach where we have dinner and night in a guesthouse.

Day 4 - Wednesday
This morning we have farniente and a guided tour of Saint-Florent and its beach. This afternoon, we discover a grapevines and beaches region: The Nebbiu region. We cross these landscapes which are very different from the rest of Corsica and we relish the view on the grapevines, the green pastures and the terrace cultivation. Then, we come back toward the little village of Vallecale to have dinner and night in a guesthouse.

Day 5 - Thursday
This morning we have a break to visit Saint Florent. The afternoon route leads us to a region of vineyards and beaches : the region of Nebbiu. We cross these very different landscapes as we are used in Corsica and we are delighted at the sight of its vineyards, its green pastures and its terrace cultivations. Then, we go back up towards the small village of Vallecale. Dinner and night in a cottage.

Day 6 - Friday
Today is our last riding day. This morning we start climbing toward Bocca di Tenda, peaking at 1 300m. On this mountain pass we will enjoy a panoramic view on Corsica mountains. Hopefully, we will sight the herds of free-roaming horses. Then, we ride down toward the village of Pietralba and the river of Asco to take the vehicles and drive to the equestrian center.
If we don't have the minimum participant number, the tour is maintained on the 6 days Corsica Colors itinerary.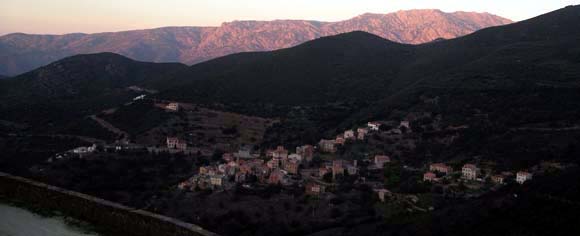 Important: This itinerary is provided on a indicative basis and is subject to modifications without prior notice for safety, meteorological or accessibility reasons. However, we will make everything possible to maintain the initial interest of the itinerary if changes should be made.
Désert des Agriates - 2019
September 15 to 20

1100 €

September 22 to 27

1100 €

October 06 to 11

1100 €
Surcharges - 2019 (to pay onsite)
Special diet

30€

Individual bedroom (subject to availability)

25 € / per night

Transfers :
- Before or after the ride (transfer + night in half board)
- Transfer from the equestrian center to Bastia Airport


75 € / pers.
25€ / pers.
If we don't have a minimum of 4 participants, an alternative route is proposed (see the itinerary tab)
Included:
- The horse tour as described above in full-board, with wine for meals
- Total and unlimited financial guarantee (APS) of all payments made to us (see "why ride with us ?"),
- Protection of the French Law for travel consumers who book through French travel agencies (see "why ride with us ?").
Not included:
- Transport to reach Corsica (contact us for the best price available at your dates) and the organisation of an added guided tour of the region before or after the horse tour
- Round-trip Bastia transfers,
- Nights and meals before or after the horse tour
- Booking fees 15€/person
- any other service or optional visit entries, personal expenses,
- tips,
- optional insurances.
Our horses and required riding ability
Horse breeds

Our horse tour center is an equestrian school as well, and provides you well-trained horses throughout the year.
They are essentially strong and holder Corsican horses.
Their high trustworthiness allows you to cross the most rugged trails (they are real goats!). Sometimes, you need to cross delicate paths on foot.
Saddles
We use "Officer" saddles, similar to English saddles but much more convenient, particularly to carry the accessories. Saddlebags and holsters are available for you to carry your daily material
Recommended riding ability
This tour is suitable for riders who feel at ease outdoor at the three gaits, even if the walk stays the main gait due to injured paths.
We cover an average of 30 kms per day, corresponding to about 5 hours riding daily. Consequently, it is necessary to have a good physical condition.

Good to know :
Minors from 10 years old are accepted if accompanied by an adult; subject to suitable physical conditions and riding ability.
Maximum authorized weight: 100kg
The local team
The tour guides are qualified equestrian guides: an equestrian tourism guide or an equestrian tourism accompanist.
Living throughout the year in Corsica, your team makes tours for many years. It will be able to make you to discover Corsica safely.
Logistic
A logistic vehicle meets us every evening and sometimes for lunch.
You need to prepare your luggage in case of bad weather. Maximum weight is 20kg per person.
Accomodation
This tour takes place in a particular wild environment, but with guesthouse or mobile home comfort (family rooms with 2 to 4 places). Don't forget your sleeping bag. Notice that during summer time, subject to availability, you can sleep in bivouac instead of guesthouse.
Sanitary facilities are always collectives in the guesthouses.

Meals
For lunch, we have the picnic we carry riding.
For dinner, we have real Corsican cuisine with our hosts (delicatessen, corrosive cheeses and local liquors).
Languages spoken by the guide: English / French speaking guide. (German or Italian depending on the guide)
Group size: 4 to 11 riders - Riders of every nationalities.
Arrival airport / train station:
Bastia airport.

Arrival: Meeting point at 9am the first day at the tourism equestrian center. (If you decide to arrive the day before, please plan a fly arriving before 6pm.)
Departure: The riders leave after 5pm.

Transfer to Bastia airport is possible (one hour). Please plan a departure fly after 7pm.
If you decide to stay one extra night, please plan to fly after 12am.

Special transfers can also be organized depending of your need (65 € per person / route).

Our riding consultant's report
An unforgettable experience in one of the most beautiful places of Corsica... The Agriates desert.
---
Riding guest reviews
"Very beautiful region and itineraries which allow us to discover many Corsican aspects. Very sunny weather. Astonishing horses, self-confident in rugged paths and with remarkable physical recovery." -Nathalie M. (June 2015)
"Really nice welcome. Appreciable quality and quantity of food. Great horse, sure-footed, unshakeable, ideal to discover Corsican landscapes and give confidence to its rider. Good guide who knows her job and showed us interesting things. Really wonderful landscapes (shrubland, mountain, desert and finally beaches on the coastline). Splendid on every level! The riding was satisfactory... Pure bliss!" - Margaux S. (2014)