Our rides

The French specialist for equestrian holidays in France !

Equestrian vacations, horseback trails, horse riding holidays, castle rides, wine tasting riding tours...


France is like Heaven to horse lovers : different types of horses, very different landscapes adapted to horse riding, rich historical remains... and French gastronomy !

That is why we have selected and tested some of the nicest horse riding holidays and trail rides in France.


This is a way to help riders from all around the world discover France from horseback, showing its varied landscapes and countryside from another perspective, discovering remains of ancient castles and major historical places, wondering through vineyards, valleys and beaches... Every rider can find the trail ride he is dreaming of in France !


We look forward to riding with you soon !

Ride in France team

Our Different RIDES IN FRANCE
RIDE IN FRANCE SELECTION

SPECIAL OFFERS... AND NEWS !!

Special families programs

Horse riders and parents, you dream of sharing your passion with your children and making them discover the world on horseback ?

New trail in Jura mountains

A stationary area trail around the riding school for 2 days between March and November


Jura : Grand lac et petite montagne

New trail in Savoie mountains

To discover savoyard wines or a trail around Bourget lake, all this new trails are perfect if you're available for a week-end.




See all our special offers for trail in Europe

or somewhere else around the world !

Week-end trails

Enjoy our rides for a week-end if you can't join us for a full week!

Vineyards horseback rides

Discover the most famous vineyards in France : Bordeaux, Médoc, Sancerre, Alsace, Provence... And for sure, you can also taste them !

Ride in mountains and snow

Wonderful landscapes, adventure rides... what else?

> More about our rides in the French mountains
Choose your ride...


Ride all around the world
You can consult all our horse riding holidays all around the world. We invite you to visit Randocheval website.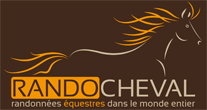 And if you want to ride in Mongolia, do not miss our Mongolia Travel and Tours website!
Randocheval and Ride in France
Share this page :

You're travelling alone?
Here are some departures we are triyng to confirm as soon as possible :
More services with our agency
In our rates, we don't include flights tickets with airport taxes, or train tickets to join the departure point of the trail. But we will be pleased to suggest you the best rate from your country, so contact us for any enquiry!
After your ride
You may want to stay longer in France to discover different regions, to experience horse riding as well as visiting Paris and other famous sites or simply relaxing on the beach. As a French travel agency, we can arrange everything to match your dreams !

Just have a look at the following proposals : Paris, Castle stay, Special Golf lovers ,Spa & Thalassotherapy resorts (sea water therapy) ...
And of course, hotels and visits, car rental, villas...
> Please contact us for any travel project.